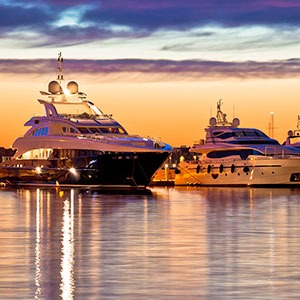 One80 Intermediaries' watercraft Insurance programs span all types and sizes of boats and yachts
Our comprehensive programs, deep coverage areas, and extended navigation solutions are able to answer to most every client demand.  With more than 15,000 boats and yachts protected under One80's programs, no other group has more experience, insight, or answers.

One80's broad appetite includes three exclusive in-house underwriting yacht programs, over one dozen partner yacht markets, and a dedicated in-house marine claims management unit.
The target classes and typical risks we focus on for this program are:
New Hampshire Insurance Company (NHIC)
Hull Values to $5M
Standard Boats and Yachts
Liveaboards including Personal Liability
'Mature' Fiberglass Vessels built in or prior to 1980
Occasional Charter
Florida, Gulf and Caribbean capability considered for larger yachts with full time paid captains
Prime Time
Center consoles with up to quintuplet out-boards
High Performance Boats up to 172 MPH
Coverage available in Continental US, including Florida and Gulf Coast
Hull values from $100K to $1M
Seawave
Standard Boats and Yachts
Extended Cruisers
Liveaboards
Absentee Owners
Aging Pedigree Boats
Coverage available in on East Coast, Fl, and Gulf Coast
Markel
Small Boats to max hull value of $750K
Standard Boats and Yachts
Liability only available
High performance up to 125 MPH
Wooden Hull
The highlighted features of this exclusive program include:
In- house binding authority
Dedicated in-house marine claims management unit
Admitted and non admitted paper available
Direct bill with installments available
Online quoting available in non-CAT areas
The available coverages we have to offer for this program are:
Hull and Protection & Indemnity
Jones Act Crew Coverage
Agreed Value
Breach of Warranty
Charter Coverage
Towing and Disablement
Coral Reef Damage
Fine Arts Coverage
All Risk Coverage
Personal Effects including fishing tackle
Fire Arms Confiscation
Fuel Spill Liability