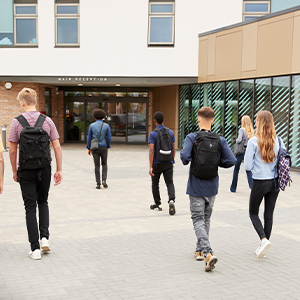 The Illinois School District Agency (ISDA) was formed in response to the increasing costs of property and casualty insurance and to fill gaps in coverage that schools were facing. From developing the most comprehensive school board legal liability to student accident coverage, ISDA has answered the call for specialty coverages needed by Illinois' public schools. ISDA utilizes The Sandner Group, a division of One80 Intermediaries to provide underwriting and program management services.
The target classes and typical risks we focus on for this program are:
Illinois Public School Districts
The available coverages we have to offer for this program are:
ISDA provides coverage that is customized to the risk appetite of its Members. Deductibles are determined based on the size and needs of the school district and not provided in a "one size fits all" manner.
Coverage for earthquake and flood can be provided up to the full insured valuation of the individual member.
Cyber Liability can be provided up to a $1,000,000 limit per member.
Appraisal services are available at a low cost to allow ISDA Members to be secure in the knowledge that the school buildings are adequately covered in the event of a catastrophic loss.
Student Accident Coverage
Helps cover medical costs for PreK–12 students who are injured while attending regular school sessions, while traveling to and from school, or while participating in most school sanctioned activities. With a limit of $5,000,000, this excess coverage also includes an accidental death benefit of up to $12,000 and an accidental dismemberment benefi t of up to $11,000. ISDA's Student Accident Coverage facilitates Member school districts' support for their students' participation in school activities. This coverage provides public high schools with the coverage needed to comply with Rocky's Law, which mandates that districts provide catastrophic accident coverage for Illinois High School Association (IHSA) sanctioned events.
School Board Legal Liability (SBLL)
The volume of SBLL claims continues to increase, approaching the same high level of general liability claims; therefore, SBLL is considered a "must have" core coverage. Because lawsuits can be initiated a number of years after an alleged act, the ISDA SBLL program covers former, present and future school board members, administrators, employees, and volunteers. This "claims made" coverage provides critical protection for school districts.
Property Valuations Regular Appraisals and Annual Updates
Help determine the level of adequate coverage and appropriate contributions. Many member districts subscribe to the ISDA's accurate, low-cost property appraisal service to assure appropriate property coverage at the time of a loss.
The Sandner Group, a division of One80 offers a Claims Portal is designed to provide complete claim information from initial filing to reserves and payments. The Portal provides you with ability to file claims and review assignment information, including the claim number, adjuster name and contact numbers.
Specific features provide you with key data elements that allow you to hone in on injury types, causes, location risk assessments, and claim history.
Key Benefits include:
Dashboard provides a visual snapshot
of claims including payments.
Claim Filing makes filing and processing
quick and simple.
Financial Summary allows you to
track reserves and payments.
Reports are a fast and easy way to review
your status and trends
Attention Parents:
Please note your school provides, through ISDA and at no cost to you, "High School Tackle Football Coverage," which is applicable to claims for medical expenses for injuries due to playing IHSA-sanctioned Grades 9-12 interscholastic football, but only after $25,000 in out-of-pocket expenses have been paid by or on behalf of the person eligible for the coverage.
However, "Grades 9-12 Interscholastic Tackle Football Optional Coverage," which is applicable to claims for the first $25,000 in medical expenses for injuries duet to playing IHSA-sanctioned Grades 9-12 interscholastic football, is no longer available for individual purchase by parents.
Check with your school to determine if it has purchased "Grades 9-12 Interscholastic Tackle Football Optional Coverage."
Atención Padres:
Tenga en cuenta que su escuela proporciona, a través de ISDA y sin costo alguno para usted, "Cobertura de fútbol americano de escuela secundaria", que se aplica a reclamos de gastos médicos por lesiones debidas a jugar fútbol americano interescolar de los grados 9 a 12 aprobado por la IHSA, pero solo después de que el limite de $25,000 en gastos de bolsillo han sido pagados por o en nombre de la persona elegible para la cobertura.
Sin embargo, la "Cobertura Opcional de Fútbol Americano Interescolar de Grados 9-12", que se aplica a reclamaciones por los primeros $25,000 en gastos médicos por lesiones debidas al jugar fútbol americano interescolar de Grados 9-12 autorizado por IHSA, ya no está disponible para compra individual por parte de los padres.
Consulte con su escuela para determinar si ha adquirido "Cobertura opcional de fútbol americano interescolar para los grados 9 a 12".