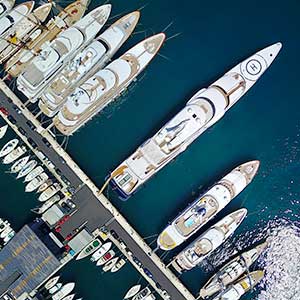 With three decades of underwriting experience, our Recreational Marine Facilities and Boat & Yacht programs are time-tested and comprehensively structured to serve the needs of your marine risks
Within our Recreational Marine Facilities programs, One80 underwrites Marinas, Boat Dealers, Yacht Clubs, Boat Builders & Manufacturers, Yacht Brokers, Marine Artisan Contractors, Sailing Schools, Boat Clubs, Boat Rentals and Museums.

One80 offers the ability to round out coverages for Recreational Marine Facilities, offering a comprehensive Package Policy, including the Property, Crime, Inland Marine, General Liability and Auto.  We offer a Marine Package that can include all of the marine Liabilities, Dock Coverage, Hull and P&I for owned or rental watercraft, Bumbershoot (excess liability) and we also offer Workers Comp.  Some coverages are available on a standalone basis.
The target classes and typical risks we focus on for this program are:
Marinas
Boat Dealers
Yacht Clubs
Marine Storage and Repair
Boat Builders
Marine Artisan Contractors
Rental Boat Facilities
The highlighted features of this exclusive program include:
In-house binding authority
Dedicated in-house marine claims management unit
Admitted and non admitted paper available
Direct bill with installments available
Monoline or package marine liabilities available
Online quoting available in non-CAT areas
The available coverages we have to offer for this program are:
Package – Property, Crime, GL & IM
Marine Operators Legal Liability
Piers, Wharves & Docks
Commercial Auto
Workers' Compensation
USL&H
Jones Act Crew Coverage
Pollution
D&O and EPLI
Package Marine Policy (that includes Legal Liability for Wharfingers, Stevendores, Towers & Ship Repairers)
Liquor Liability
Equipment Breakdown
Electronic Data Processing